The BetterGuard
Die innovative Sprunggelenkbandage
Tax included.
Shipping
calculated at checkout.
The unique ankle bandage that combines active protection and natural freedom of movement.
Intelligent ankle support that combines active protection and natural freedom of movement thanks to BG POWER technology
Works like a safety harness for your ankle, protection only activates on critical twisting movements
Maximum performance and high comfort thanks to natural freedom of movement
Slim design ensures a very good fit in sports shoes - wears like a second skin
Wearable to return to sport after injury or preventively
Due to an unexpectedly high demand, your variant is already sold out and currently not in stock.
NEVER WITHOUT
I've had a bad injury in my ankle and since then I was always afraid it could happen again. Then I discovered BetterGuards and it all changed. I'm enthusiast about the technology! It gives me the freedom I had before and it's also super comfortable. I suggest it to all my friends who are into sports
Zuerst vielen Dank für diese hochwertige Bandage. Nach meiner Sprunggelenkverletzung habe ich eine Orthese getragen und jetzt beginnt das Training mit der Bandage. Es sind jetzt 5 Wochen seit meiner Verletzung und ich kann mit der Bandage ganz normal gehen und ab heute auch im Training springen.
Ich bin Ärztin und von dem Produkt begeistert.
Noch einmal, vielen Dank
MUST HAVE für alle, die im Sport Vollgas geben wollen !
Ich nutze "The BetterGuard" sowohl zum Laufen als auch für meine Fußballtrainingseinheiten. Nicht mehr wegzudenken für mich. Ich fühle mich sicherer als zuvor, wobei der Tragekomfort weiter voll gegeben ist. Versand lief alles reibungslos und das Produkt wirkt auch nach diversen Trainingssessions weiter sehr hochwertig. Kann ich allen Sportlerinnen und Sportlern nur wärmstens empfehlen. Danke Betterguards.
🏃🏻‍♂️UTMB 170K 🏃🏻‍♂️ links und rechts mit BetterGuard
Riesenlob,
die Bandage eignet sich auch für Ultraläufe.
Habe die Bandagen ca. 35 Stunden durchgängig getragen. Keine Blasen, oder ähnliches.
Und einmal hat mich die linke Seite vor einer gefährlichen Situation beschützt.
Vor allem war es mental eine sehr sehr gute Sache, da ich vor 11 Wochen einen knöchernen Bandabriss im Sprunggelenk rechts hatte.
Vielen Dank auch an den Support 💪🏻
Spezielles Danke an Samira, sie konnte es noch kurzfristig organisieren mir auch für links eine Bandage nach Chamonix zu senden.
Top Unterstützung im Handball
Die Bandage ist eine super Unterstützung für den Handball Sport. Gerade in seitlichen Bewegungen bietet die Bandage sehr guten Halt und auch qualitativ ist sie sehr hochwertig verarbeitet. Kann ich jedem Sportler nur empfehlen der Verletzungen vorbeugen möchte.
The safety belt for your ankles
The BetterGuard works like a safety belt for your ankles. With the BG POWER as the heart - an intelligent micro-damper - the bandage offers you exceptional freedom of movement during normal movements. In critical situations, on the other hand, the damper activates itself and stabilizes your ankle extremely effectively - three times faster than your body .
You can put this innovative high-tech bandage on quickly and easily with the customizable fastener and ideally adapt it to your ankle geometry.
The high-quality micro-velcro ensures a long service life of the velcro surface, even after repeated washing. It combines good holding power with good handling for readjusting the closure.
Freedom of movement, performance, comfort combined with safety and stability . The BetterGuard offers a new safety experience for every sport.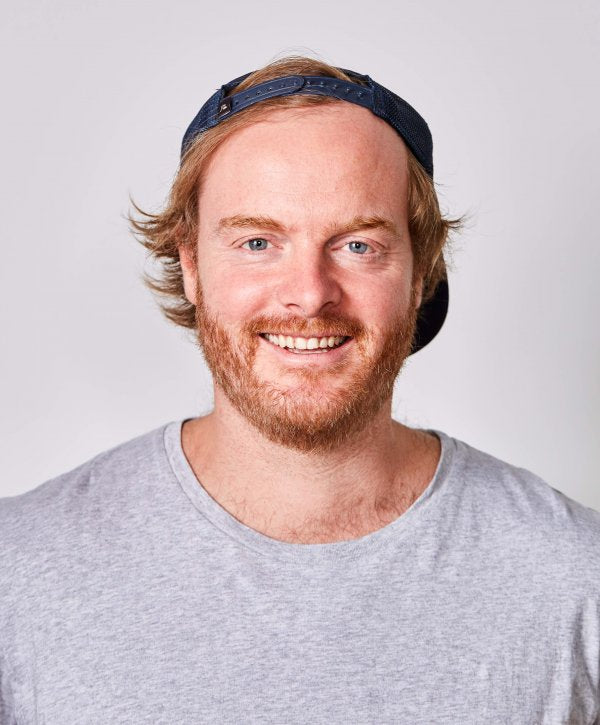 Product story:
Sprains: pain, downtime, a long rehab journey back onto the pitch and then still more secondary injuries. Whether it's with ourselves, friends or sports idols - we've all experienced it in different ways. Too often.

Such injuries prevented our founder and visionary Vinzenz from pursuing a professional sports career. Commercially available bandages either offered him too little protection or restricted him and limited his body, his head and his performance. Reason enough to bring BETTERGUARDS to life and to create a completely new type of injury prevention together with pioneers from science and technology: The BetterGuard – The safety belt for your ankles.

As part of the NBA Launchpad - the NBA's start-up accelerator - the first proprietary ankle bandage was developed in 2022. It has been successfully tested with international research institutions, such as the Charité in Berlin, as well as other institutes and athletes worldwide.

Our goal is to help athletes achieve their best performance. Unhindered by injuries or resulting mental barriers. BETTERGUARDS wants to finally banish ankle injuries from the history books of sport.
Die neuartige Sprunggelenkbandage – entwickelt und getestet
Im Rahmen des NBA Launchpads – dem Start-up Accelerator der NBA - wurde 2022 die erste eigene Sprunggelenkbandage entwickelt. Sie wurde mit internationalen Forschungseinrichtungen, wie der Charité in Berlin, sowie anderen Instituten und Athleten weltweit erfolgreich getestet. Darunter z. B. Ex-Handballprofi Martin Strobel oder Prof. Dr. Steffen Willwacher, Professor für Biomechanik und Grundlagen der Ingenieurswissenschaften an der Hochschule Offenburg. Mit Prof. Dr. Willwacher wurde ein Vergleich verschiedener Sprunggelenkbandagen in einer Studie getestet.
Unser Ziel ist es, SportlerInnen zu helfen, ihre beste Performance abzurufen. Ungehindert von Verletzungen oder daraus resultierenden mentalen Barrieren. So will Betterguards Sprunggelenkverletzungen endgültig in die Geschichtsbücher des Sports verbannen. Das mehrfach patentierte BG PROTECTION System sorgt nicht nur für Prävention, sondern eignet sich als idealer Schutz für instabile Knöchel und bei Rehabilitation, um wieder aufs Spielfeld zu kommen.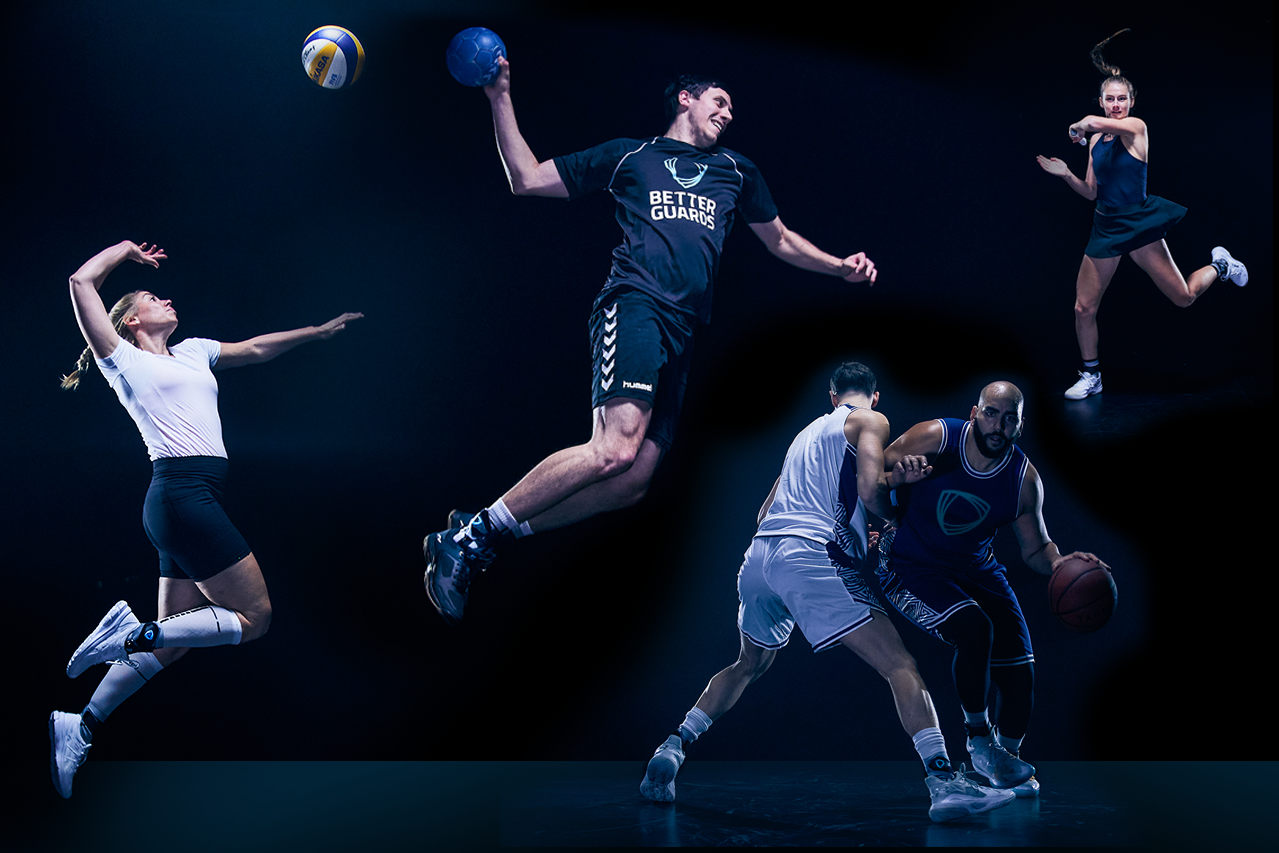 Unsere Sportbandage wird von professionellen Athleten genutzt
Unsere Sportbandage wird schon von diversen Athleten genutzt und supportet. Dazu gehören unter anderem die NBA Brüder Moritz und Franz Wagner, die Tennisspielerinnen Bojana Marinkovic & Anastasiya Kuparev und die St. Brown Brüder aus der NFL.
Probiere unsere Sprunggelenkbandage zum Sport aus und lass dich genau wie sie begeistern!
Erfahrungen mit unserer Sportbandage
"

Sobald die aktive Stabilität wieder trainiert wird und wenn es wieder zurück aufs Feld geht sowie im präventiven Bereich, ist 

The BetterGuard zweifelsfrei ein Game-Changer

. Hier kann The BetterGuard seine 

Vorteile gegenüber klassischen Orthesen und Tape

 voll ausspielen."

Read more

"Die Tatsache, dass das Produkt einen so hohen Tragekomfort bietet, macht es zur

 

perfekten Lösung für den Einsatz im Profisport

. Denn als Sportler will man ein Produkt, das einen

 

in seiner Leistung nicht einschränkt

."

Read more

Ankle injuries are annoying, dangerous and bring a lot of problems with them. That's why good protection, at the latest after the first twist, is super important! I know that. Both professionally and privately, as a physiotherapist and volleyball player, I have witnessed and treated a number of injuries.

Read more