Protecting Performance
Protection and freedom of movement in one: the bandage with intelligent mini piston works like a seat belt in a car. You put on the joint protection and continue to enjoy full freedom of movement. The system is only activated when a critical situation arises. If your foot twists outwards, the system stabilizes your ankle in a flash. When the danger is over, the BG PROTECTION SYSTEM is automatically released. You can move your foot naturally again immediately.
This is what the BG PROTECTION SYSTEM from BETTERGUARDS offers you:
Stabilization when twisting or twisting the ankle

Prevent or reduce the severity of ankle injuries such as torn ligaments or sprains

easy handling and individual adjustment to your foot shape

natural freedom of movement and high comfort

no impairment during the sport
The heart of our product:
The patented mini piston BG POWER
The multi-patented BG POWER is the core of our ankle protection and the result of intensive research. It sits on the outside of the ankle and works there like a shock absorber: a mini piston works together with an intelligent fluid system. This combination allows the system to be activated immediately in the event of risky movements.
This is the BG POWER:
Combination of micro hydraulics and fluid system

activates within a few milliseconds in critical situations

Guaranteed function even with changing external conditions and high requirements

developed and produced in Germany according to DIN ISO 9001 standards
VALIDENCE
Innovation, Validation, Evidence.
Due to the high degree of innovation of the BG PROTECTION system, a lot had to be rethought. For the first time, the question of joint protection at a high rate of ankle twisting was asked. The problem: Up until now, freedom of movement has hardly been studied in connection with orthoses. There were hardly any suitable test benches for the new properties of the system.
BETTERGUARDS made a virtue of necessity. Various test benches were developed to validate the development steps. Evidence- based studies for the independent evaluation of the system were carried out together with clinical partners. The BG PROTECTION system offers the opportunity to completely rethink prevention. We call this great research drive, breaking new ground and thinking differently in order to get the best out of the athlete.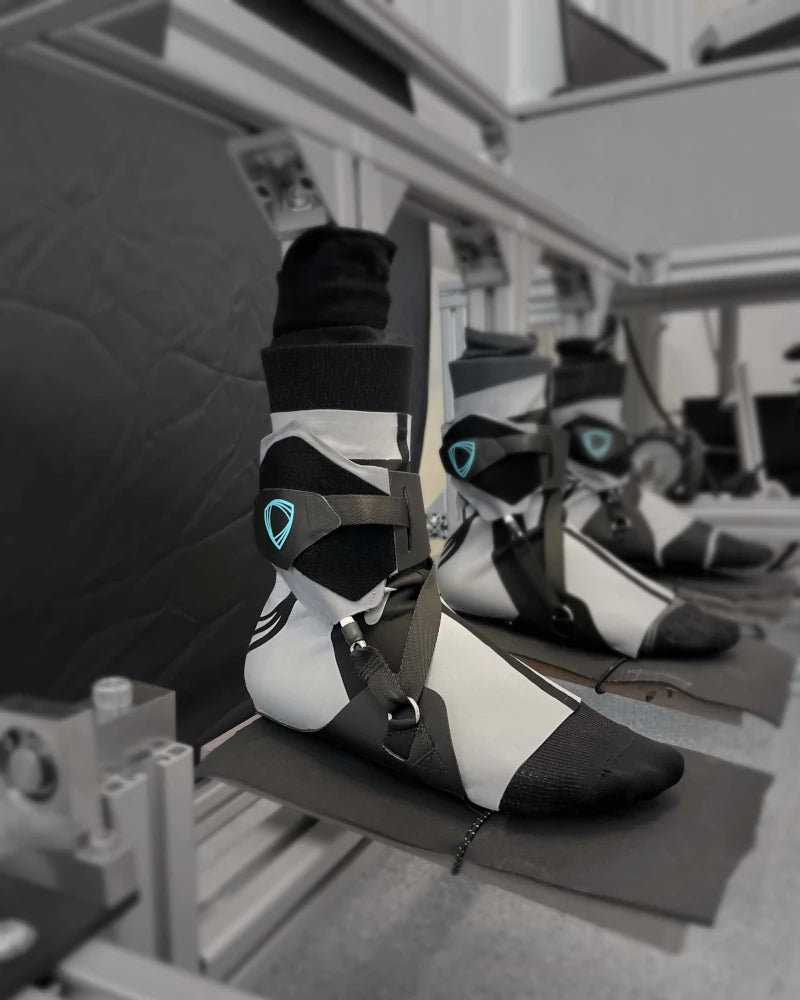 Internal Validation
Our goal: BETTERGUARDS has set itself the task of developing the most innovative ankle protection in the world. Our system should both protect athletes and be accepted and supported by the sports world.
Our approach:
Models and test benches, scientific studies and testers - we attach great importance to valid and evidence-based research results.
Tilting Platform:
Evaluation of the protective effect in simulated twisting with and without BETTERGUARDS.
Ankle Joint Test Bench:
Evaluation of the protective effect of the BG PROTECTION system on an artificial foot model.
Gait Simulation Test Bench: Evaluation of the longevity of the BG PROTECTION SYSTEM at different running speeds and in combination with different shoe types using artificial ankle joints.
Paradigm shift in injury prevention - BETTERGUARDS combines protection and freedom of movement.
Prof. Dr.-Ing. Marc Kraft
TU Berlin, Department of Medical Technology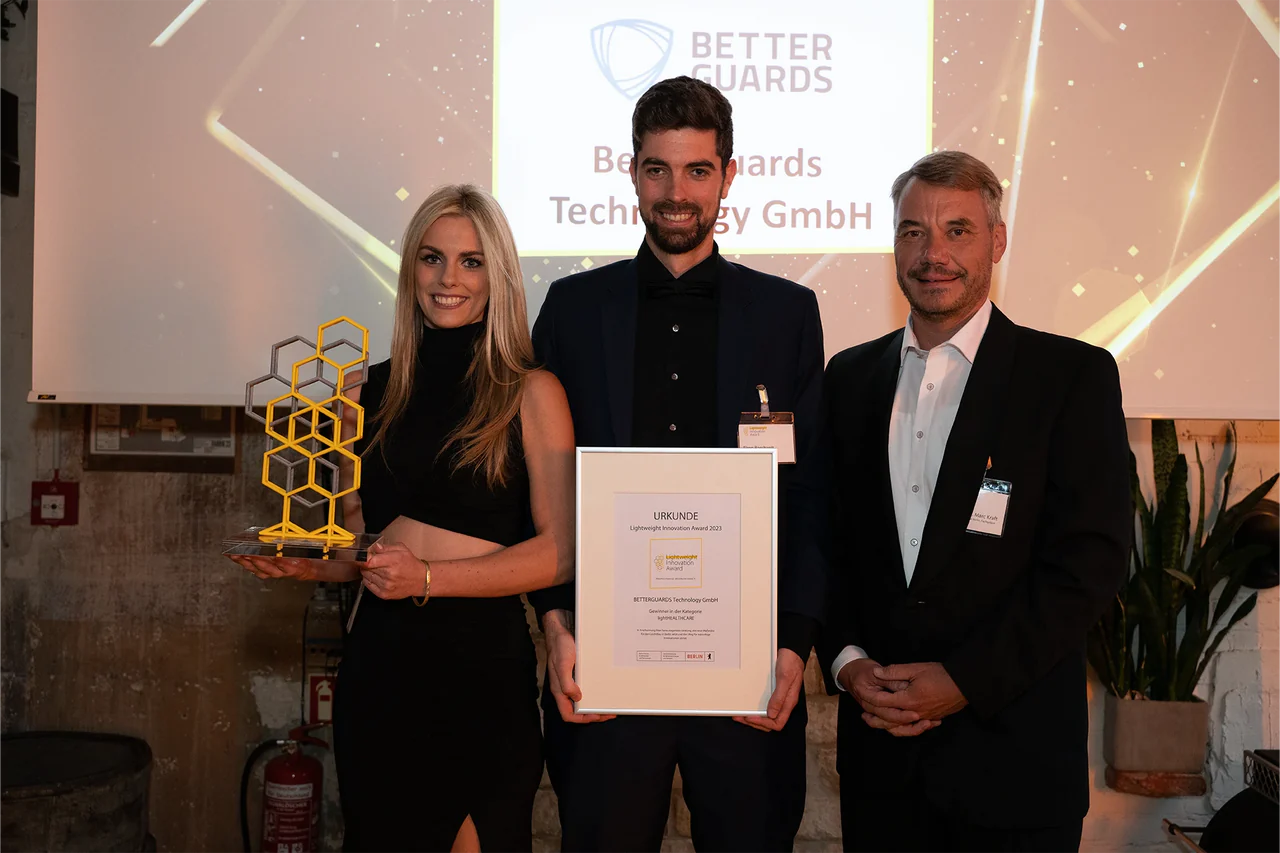 Gewinner des Lightweight Award 2023
Am 24. Mai 2023 wurden in Berlin erstmals die Lightweight Awards verliehen. In fünf verschiedenen Kategorien konnten sich Unternehmen aus Berlin für den Innovationspreis für Leichtbaulösungen bewerben. Betterguards gewann in der Kategorie "Healthcare"!
External Studies
The external examination and evaluation of our technology is and remains a key factor for the initial product development and further development of our products. It is an important source of information for our innovative strength and our drive from the science of injury prevention.
Find out more about the studies we have conducted: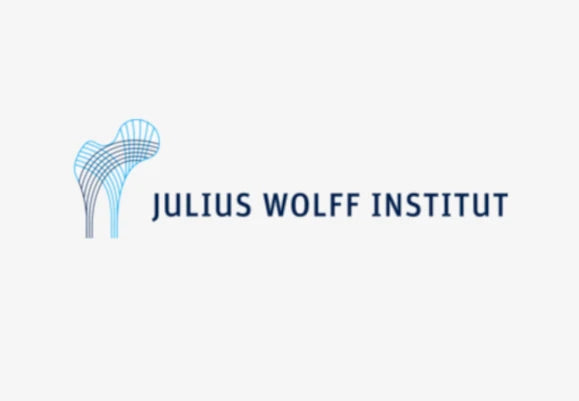 EFFECTIVENESS STUDY:
BETTERGUARDS actively limits the extent of inversion in the event of a twisted ankle
When landing, there is no negative impact on the knee joint
There is no restriction in freedom of movement with normal movements
Efficacy Study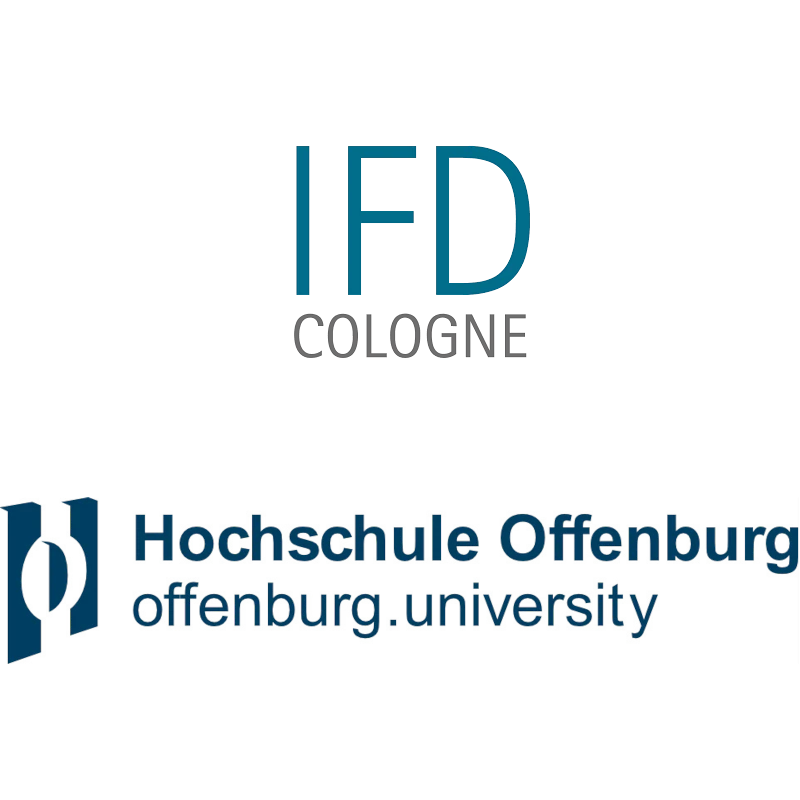 PRODUCT COMPARISON STUDY:
Greater freedom of movement than permanently stabilizing bandages and orthoses
Higher user acceptance of the BG PROTECTION system compared to comparable products
Equivalent protective effect against twisting as stiff orthoses
PRODUCT COMPARISON STUDY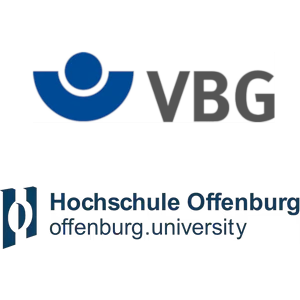 INCIDENCE STUDY:
(currently in progress)
Analysis of the frequency of injuries to the ankle with BETTERGUARDS
Implementation in professional German handball, basketball and volleyball teams
Observation period at least 1 year, initiated by the VBG
Gewinner des Sports Technology Award 2023
Es ist offiziell! Im Februar wurden wir nominiert – im Juni gewinnt Betterguards den Sports Technology Award und begeistert damit die Wagner Brüder der NBA, Franz Wagner und Moritz Wagner. Auch sie empfehlen The BetterGuard und wissen, wie entscheidend es ist, ihre Gelenke optimal zu schützen.