Protect your ankles while playing basketball with The BetterGuard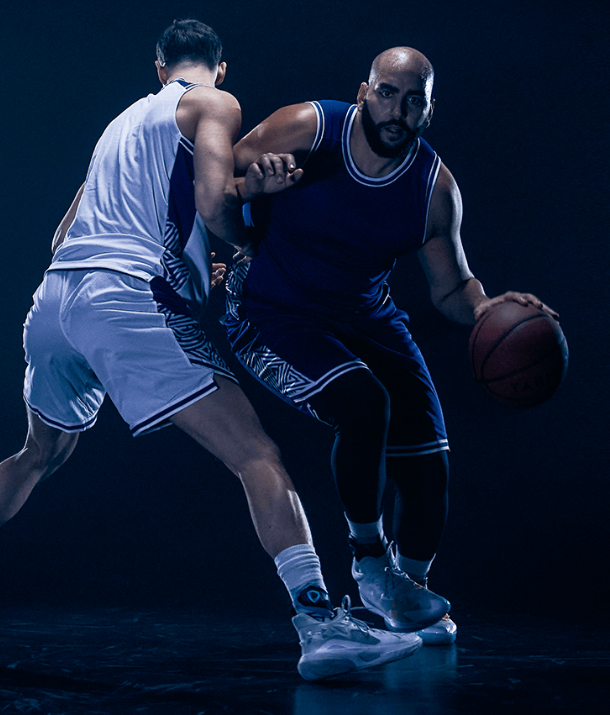 Basketball is still considered a sport that, in contrast to football and handball, is non-contact. Even comparatively light touches are often rated directly as foul play by the referees and penalized accordingly. However, anyone who now assumes that injuries are less likely to occur as a result of largely avoiding physical contact is wrong.
Even though basketball is non-contact, there are sometimes very serious injuries in basketball. The ankles are mainly affected. With The BetterGuard, however, you can significantly reduce the risk of ankle injuries in basketball .
The safety belt for your ankle in basketball
There is a particularly high frequency of injuries during rebounds when physical contact is the most common. This external influence often throws your body out of balance when you jump. This, in turn, can prevent a stable landing and could cause you to twist your ankle .
Why should you use The BetterGuard for basketball?
The BetterGuard...
combines freedom of movement and protection against twisting
acts like a seat belt for your ankle
is only activated for critical twisting movements
offers high comfort and allows maximum performance
helps protect against injuries
prevents injuries
Statistically, the injury rate in basketball ranges from 2 to 18 injuries for an average of 1,000 games. Minimize your risk of injury while playing basketball and protect your ankle with The BetterGuard . The BetterGuard is a smart ankle brace that lets you focus on the game without worrying about ankle injuries.
Get to know The BetterGuard now
The BetterGuard
Tax included.
Shipping
calculated at checkout.
The unique ankle bandage that combines active protection and natural freedom of movement.
The center position in particular is often affected by ankle injuries
In the context of sports medicine analyses , landing after a jump has emerged as the riskiest movement pattern . This movement pattern is responsible for more than a third of injuries to ankles, thighs and knees. A position that is particularly prone to injury can even be identified: Most injuries occur in players in the center position , i.e. during the physically demanding work under the basket.
Injuries often occur during the rebound. This is mainly due to the extremely high demands in terms of athletics such as speed, strength, endurance and mobility. Added to this is the intensity of the movements, which ensure that your joints, tendons and muscles are constantly under high stress both in the point game and in training.
Even small deviations in posture when jumping and landing are enough to drastically increase the risk of injury. Contact with the opponent and the resulting deviation in landing often lead to sprains or ankle injuries.
Charité effectiveness study
BETTERGUARDS actively limits the extent of inversion in the event of a twisted ankle
When landing, there is no negative impact on the knee joint
There is no restriction in freedom of movement with normal movements
The performance of The BetterGuard convinces basketball players worldwide
With our newly developed sports bandage, the protection of your ankles changes significantly. This works like a seat belt for your ankles. They not only prevent ankle injuries in basketball, but also allow you to resume playing quickly and well-protected after an ankle injury.
The heart of the bandage is an intelligently functioning mini piston, which has a damping effect on critical movements and stabilizes your ankle extremely effectively. At the same time, it ensures exceptional freedom of movement in your normal movements. Take a closer look at our BG PROTECTION SYSTEM !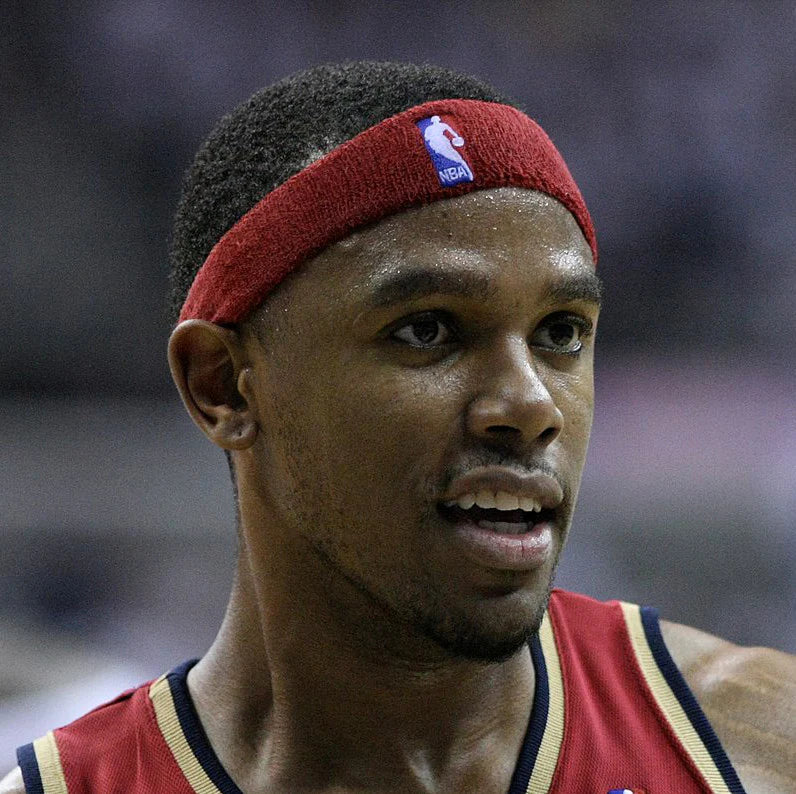 Daniel "Booby" Gibson on The BetterGuard
"My career in the NBA ended early due to recurring ankle injuries. In our game, they are inevitable. That's why I'm excited to represent The BetterGuard, a product that helps ensure others don't have to go through the same experiences I did.
The fact that the bandage offers such a high level of comfort makes it perfect for use in professional sports. Because as an athlete you want a product that doesn't limit your performance."
Betterguards is NBA Launchpad portfolio company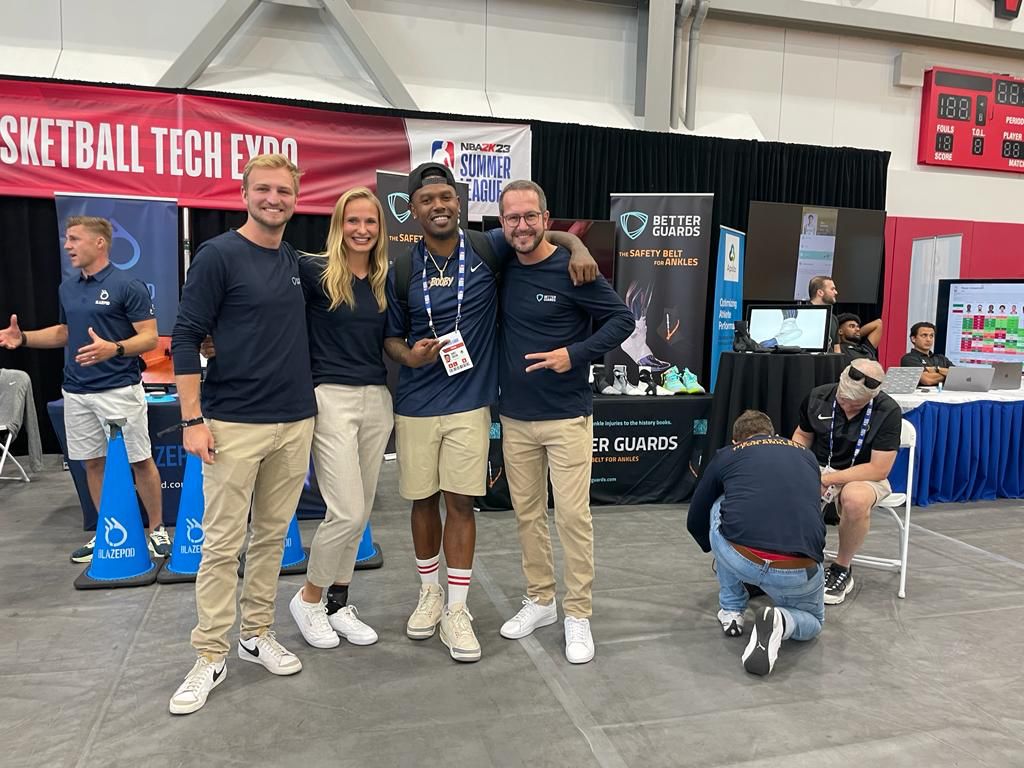 After being selected in the Innovating Ankle Injury Prevention and Recovery category, we were invited to the NBA Summer League.
It was a great pleasure for us to present the joint developments live in front of an audience that simply lives basketball.
Various studies confirm the functional advantages
The very good performance of The BetterGuard with regard to ankle injuries is also reflected in customer behavior and popularity. In a direct comparison with competing products, The BetterGuard has a higher level of user acceptance, not least thanks to its intelligent functionality. Both a corresponding efficacy study and a product comparison study confirm these functional advantages of The BetterGurad. Accordingly , The BetterGuard has these advantages over conventional models :
The pure protective effect is just as high as with a stiff orthosis
The extent of inversion in the typical twisting of the foot is limited
The knee joint is not negatively affected by the bandage when landing.
There are no restrictions on freedom of movement in normal movements.
Overall, the freedom of movement is much higher than with permanently stabilizing orthoses and bandages.
Take a look at the comparison of conventional bandages and The BetterGuard .